Troy
As the Greeks fall, they decided to head back home. King Priam decides to have one last battle with the Greeks to leave Troy for good. It was a night battle so the Greeks didn't knew, raining them down with flaming arrows and lighting huge balls of dry branches and rolling them down at the beach. It was a battle that Achilles wasn't in, but his cousin Patroclus pretended to be him by wearing his armor, his sword, his helmet, and his moves. Hector finally had a battle with Achilles not knowing it wasn't him. Patroclus was fast but Hector was faster, causing him to cut Patroclus's neck and finishing him with a sword to the heart.
Troy Videos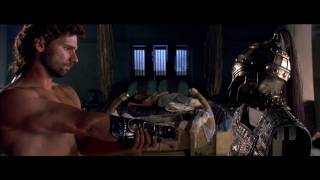 Troy - Trailer
Movie Recommendations If You Like Troy
People who like Troy also like and give high ratings below movies. This can be a good indicator that if you like 'Troy' probably you will also like these movies. We have advanced algorithms and fine tuned filtering mechanisms that choose these movies wisely. If you have any issues please feel free to write us from the bottom part of the page.
Some of the movies like 'Troy - 2004' are Excalibur, Clash of the Titans.
---
Similar Movies like Troy
Those movies have content similarities with Troy . If you like any topic or tag under the below movies, you may also be interested them. You can also share any topic or tag to add these movies, please feel free to contact us. We are passionate about improving our recommendation mechanism. Therefore any feedback is welcome.
Some similar movies of 'Troy - 2004' are Excalibur, Clash of the Titans.
Excalibur
history
sacrifice
mythology
immortality
---
Cast & Crew