Last Christmas
Kate is a young woman subscribed to bad decisions. Her last date with disaster? That of having accepted to work as Santa's elf for a department store. However, she meets Tom there. Her life takes a new turn. For Kate, it seems too good to be true.
Last Christmas - Official Trailer
Last Christmas Videos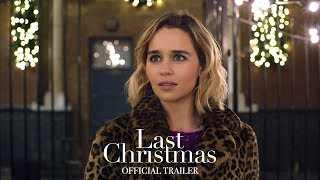 Last Christmas - Official Trailer
Similar Movies like Last Christmas
Those movies have content similarities with Last Christmas . If you like any topic or tag under the below movies, you may also be interested them.
Some similar movies of 'Last Christmas - 2019' are Krampus, Arthur Christmas, Christmas Carol, A, The Holiday, Elf, How the Grinch Stole Christmas, The Santa Clause, The Nightmare Before Christmas, Batman Returns, The Muppet Christmas Carol.
---
Cast & Crew